Our EDUREFORM project team members are engaged in several tasks and activities which will help to mitigate the impact of the Fourth Industrial Revolution on Indian Society and bring an education reform through future and in-service teachers' training. Our main aim is to promote critical, creative, and analytical thinking skills in secondary schools in order to adapt the Indian youth to the dynamic and demanding essence of the labour markets. Our tasks are divided in management, developmental, visibility and quality assurance activities.
Management 
Our EDUREFORM Consortium counts with 11 partners from across India and Europe. As you can imagine, good coordination is a must, and we ensure it by promoting well-functioning communication channels and by meeting periodically in what we call our EDUREFORM Consortium Board Meetings. We make sure that we are all on the same page! Of course, the financial part shall also be accurately followed and implemented, here our Support & Care team plays a crucial role to ensure that all the documents are up to date and that we never miss a deadline.  
Overall, there is no mistaking the fact that good project management is the cornerstone to a good implementation and our EDUREFORM Team is aware of it.
Development
The developmental activities of EDUREFORM are at the core of our main goal: to instigate an educational reform that will prepare students to  have an inquiring mind that can easily adapt to the fast-changing nature of our societies and labour markets.
As part of the developmental activities of the project, the team has prepared and presented a set of  innovative pedagogical tools for the Indian students to enhance their critical, creative, and analytical thinking skills. This set of innovative pedagogical tools conform our EDUREFORM curricula which will be taught at our four Indian Universities.
To bring this educational reform to reality, we are also organizing vocational trainings for in-service teachers. School teachers are one of our key targets, that is why by teaching them how to impart the EDUREFORM curricula we will prepare Indian secondary school children and upgrade their skills to be fit for the labour market.
Additionally, our team is developing resources which will be essential to execute the training sessions but also to increase the impact of our project. The EDUREFORM Book is currently on the pipeline, a book containing the pedagogical tools selected and developed by our Consortium.  We are also  developing a MOOC Course which will allow educators and teachers from around the globe to study and learn about our pedagogical tools via this distance learning platform. As you see there is a lot to come!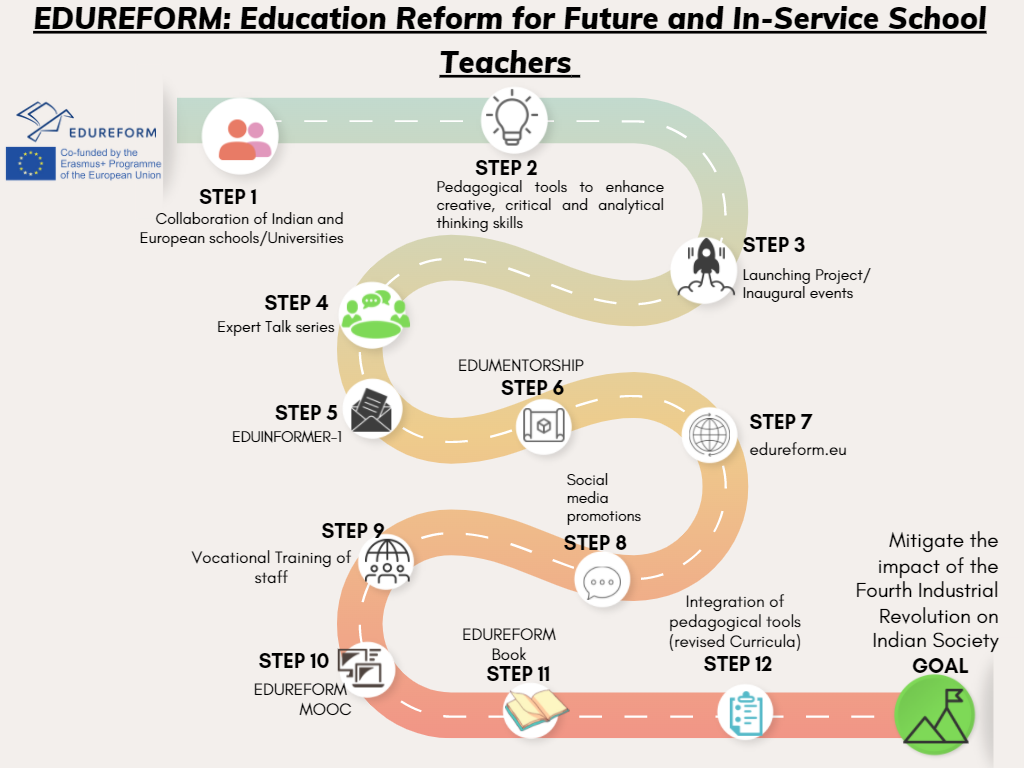 Visibility and Communication
Communication is the engine of project management. It is a force that drives the entire process forward and never stops moving.  Internal communication, on one hand, ensures all relevant partners have a clear picture of the project performance, including potential risks, distribution of responsibilities, and the overall project goals. Providing all stakeholders with visibility into work and project progress secures alignment and adds an element of accountability. Seeing in real-time how projects are progressing enables effective decision-making and empowers our team to work more nimbly. On the other hand, external communication channels allow us to raise awareness about the issue EDUREFORM tackles but it also helps us to reach wider audiences and become visible in our societies by building networks with peers from all around the world.
Social media has a lot to offer for those who navigate the agitated waters of project management. That is why  our EDUREFORM team always tries to be updated with the latest tools that technology brings us. You can follow us on: Linkedin, Facebook, Youtube and Instagram. Our team also recently launched the EDUREFORM Newsletter: the EDUINFORMER. Do not forget to subscribe if you want to keep abreast with the last news in education and to check on us!
Overall, we view our communication strategy as the glue that connects everything together and ensures that the right activity is taking place, at the right time, to the right audience through the right channels.
To go more in detail, the EDUREFORM Platform has successfully hosted 4 Expert Talk Series, where educators from around the world presented interesting perspectives on different issues the education systems are currently facing. 
The Indian Partners have hosted Edureform Inaugural events on virtual platforms in their respective institutions, where the project was introduced to a wider audience and prominent experts were invited as speakers to engage the audience in different topics related to EDUREFORM.
Our team also recently launched this website, which paired with their social media channels – Facebook, Linkedin and Instagram – has helped them to raise the visibility of the project.  Our social media accounts have gained a good number of followers and we are active on a daily basis. 
The final conference of the Edureform project will be organized at Chitkara University which will help to build a strong alliance with all the partners and ensure that the project indeed brings the much-needed change required in the Education system of India.
Quality Assurance
We are aware that to expect quality of outcomes, the EDUREFORM project needs to ensure quality of processes. Both, our Internal and External Assurance Quality teams, blend qualitative and quantitative evaluating tools and deliver their assessments and recommendations to our EDUREFORM Consortium. They help us to maintain ourselves in the right track and to keep focused on achieving our main goals.
We have tried to take you throughout the inner workings of our EDUREFORM project. You can imagine that we keep ourselves busy trying to complete all the activities of the project to the best of our abilities. Nevertheless, for us as a Consortium, we feel grateful we have such a wonderful task ahead of us: bringing critical, creative, and analytical thinking skills to the classroom. We cannot think about a better objective than creating curious and enquiring young minds.