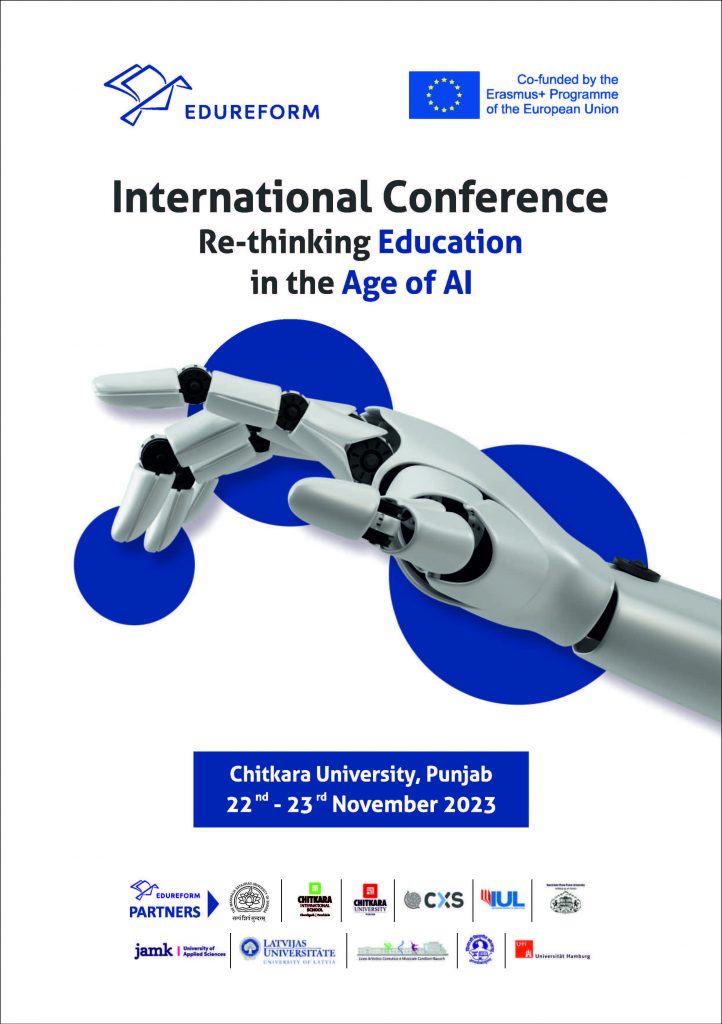 Co-funded by the Erasmus+ programme of the European Union, organized at the premises of Chitkara University, the International Conference Re-thinking Education in the Age of Al is the event that will conclude the first act of the EDUREFORM project. Indeed, this event will launch an international and interinstitutional alliance of scholars enhancing the role of educators in the socio-economic challenges originating from the intensive deployment of robotics and artificial intelligence. The aim is to move from the capacity-building phase to a new phase, where universities, civil society organizations and professional organizations from India and Europe conduct joint research and awareness activities.
With the mission in mind, the conference will mark the launch of the Indian-European Alliance for Education, a network of scholars engaged in finding solutions to revamping learning practices, exploiting the activities and the human capital developed under the aegis of the EDUREFORM project.
With the participation of international experts from different backgrounds, the International Conference Re-thinking Education in the Age of Al aims to engage the audience over the future impact of the Fourth Industrial Revolution on the labour market and education scenario. The International Conference is a unique opportunity for scholars, teachers, students, practitioners, and policymakers to comprehend how artificial intelligence and robots would impact society and how educators could mitigate the intentional effects of technological innovation.