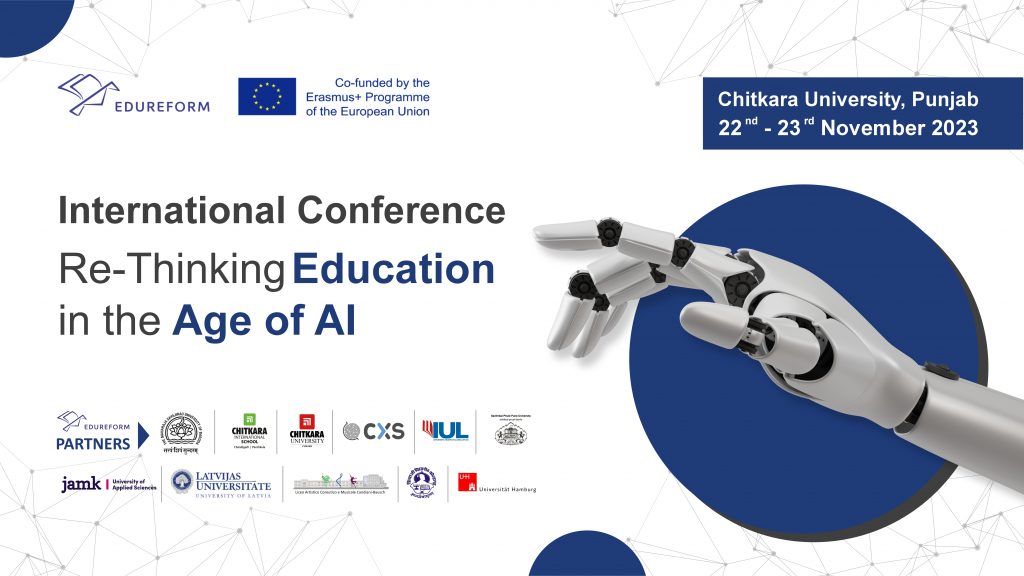 Shaping Tomorrow: EDUREFORM's Power-Packed International Conference on Education in the A.I. Era
Chitkara University, Punjab, is gearing up for a groundbreaking event – the "International Conference Re-thinking Education in the Age of A.I." scheduled for November 22-23, 2023. Anchored by the EDUREFORM project, co-financed by the European Union's Erasmus Plus program, the conference is a crucible for probing the seismic socio-economic impacts of robotics and artificial intelligence (A.I.)
Day one will start with a symphony of discussions, dissecting how A.I. metamorphoses the labor landscape. Renowned dignitaries from across Asia and Europe will unravel insights on reshaping education to harmonize with the cadence of technological innovation.
Day two will be the spotlight with the "Poster Competition: International Conference Re-thinking Education in the Age of A.I." Open to secondary and higher education students, this competition serves as a battleground for visionary ideas. 
The crowning moment unfolds during the valedictory ceremony, where the creators of the most compelling poster will be endowed with a coveted cash prize of INR 40,000. Simultaneously, accolades will cascade upon other exceptional entries, amplifying the voices of those whose ideas shatter the confines of convention.
Beyond the competition, the conference marks the official launch of the Indian-European Alliance for Education, signaling a united front in facing future challenges. The presentation of a special issue of the Scopus-indexed Journal of e-Learning and Knowledge Society dedicated to education and the fourth industrial revolution is the perfect finale to this intellectual celebration.
Chitkara University hosts and pioneers this global discourse in collaboration with esteemed partners from India and Europe. The Poster Competition, a beacon for burgeoning intellects, exemplifies the university's commitment to propelling education into the uncharted territories of innovation.