Have you ever thought why human make irrational decisions?
Although humans are often glamorized as rational beings capable of making logical decisions. More often than not, humans tend to engage in irrational behaviors where we make decisions based on previous experience and intuition rather than careful analysis. In the paper "The Emotional Dog and its Rational Tail: A Social Intuitionist Approach to Moral Judgment," moral reasoning is reviewed under the social intuitionist model.
The most interesting thing about this approach is that it helps us explain human tendency to make decisions based on intuition rather than reason. The social intuitionist approach argues that moral intuitions (including moral emotions) come first and directly cause moral judgments (Kagan, 198 4; Shweder & Haidt, 1993). The social part of the social intuitionist model proposes that moral judgment should be studied as an interpersonal process. In rationalist models, while making decisions, one briefly becomes a judge, weighing issues of harm, rights, justice, and fairness against facts. Whereas, in the social intuitionist model, one becomes a lawyer trying to build a case rather than a judge searching for the truth.
In the social intuitionist model, it becomes plausible to say, "I don't know, I can't explain it, I just know it's wrong." It says that moral reasoning is rarely the direct cause of moral judgment. This model deemphasizes private reasoning and emphasizes the importance of social and cultural meanings. It states that moral judgment is generally the result of quick, automatic evaluations (intuitions). The social intuitionist model is more consistent than the rationalist model and provides a descriptive rather than a prescriptive claim about how moral judgments are made.
According to the Social Instuitionist approach, moral judgment is caused by quick moral intuitions and is followed by slow, ex post facto moral reasoning.
Moral judgements are defined as evaluations of the actions or character of a person that are made with respect to a set of virtues held to be obligatory by a culture or a subculture.
Moral reasoning is defined as a conscious mental activity that consists of transforming given information about people in order to reach a moral judgment.
Moral intuition is defined as the sudden appearance in the consciousness of a moral judgment, including the affective domain, without any conscious awareness of having gone through steps of searching, weighing evidence, or inferring a conclusion.
Links in the model: these four links form the core of the social intuitionist model.
The intuitive judgment link: the model proposes that moral judgment appears in consciousness automatically and effortlessly as a result of moral intuitions.

The post hoc reasoning link: the model proposes that moral reasoning is an effortful process, engaged in after a moral judgment is made.

The reasoned persuasion link: the model proposes that moral reasoning be produced and sent forth verbally to justify one's already made moral judgements to others.

The social persuasion link: the model proposes that social forces may elicit outward conformity and, in many cases, people's privately held judgements are directly shaped by the judgements of others.
The core of the model gives moral reasoning a causal role in moral judgment, but only when reasoning runs through other people. The full social intuitionist model therefore includes two ways in which private reasoning can shape moral judgements.
The reasoned judgment link: people may at times reason their way to a judgment by sheer force of logic, overriding their initial intuition.

The private reflection link: people may at times activate a new intuition that contradicts the initial intuitive judgment and the most common way of triggering new intuitions is role taking.
Since intuition is the core of the social intuitionist model, it is imperative for us to explore the origin of intuition. According to the Somatic marker Hypothesis [Damasio, 1994], our experience in the world triggers emotional experiences that involve bodily changes and feelings. When we are exposed to repeated experiences of such emotional conditioning, our brain tunes into these responses and begins to respond similarly when similar situations occur. After this, even a mere thought of a particular experience is sufficient to trigger an "as if" response in the brain and our body experiences a similar feeling [though weaker than actual feeling in actual experience].
The ventromedial prefrontal cortex in our brain integrates these feelings or "somatic markers" with our other knowledge and planning functions so that the brain intuitively responds in familiar situations. Damasio's work shows us how we rely on momentarily flashes of feeling as guides when making decisions.
Lakoff and Johnson's work shows that our "embodied cognition" is built on our physical and emotional experiences. We attach meanings to our experiences based on the connotation our culture and society delegates to the objects. They have shown that nearly all complex thought relies on metaphors that we humans draw from our experience as physical creatures.
Furthermore, Darwin suggested that human moral sense grew out of social instincts and so humans follow prescriptive rules, i.e. individuals have learned to respect some rules because of active reinforcement by others [De wall, 1991]. Human society is characterized by constant and vigorous discussion on norms and norm violators. Furthermore, humans show willingness to expend individual or community resources to inflict punishment on the violators even if the violator has not harmed some of us.
Thus, the social intuitionist model locates morality in human group's efforts to solve cooperation and commitment problems through the use of language.
Backed by such arguments "Social Intuitionist approach" sees morality as a major evolutionary adaptation for an intensely social species, built into multiple regions of brain and body and is shaped by input from the culture. So, moral intuition is both innate and encultured.
So far, it may have seemed that reasoning is completely intuitive however, it should be noted that looking back at link 3, the reasoned persuasion link, that says that people's [ex post facto] moral reasoning can have a causal effect-on other people's intuitions shows that moral judgment is an ongoing process spread out over time and over multiple people. Reasons circulate and affect other people when conversations occur.
The link 6 "the reflective judgment link" shows that people may sometimes engage in private moral reasoning for themselves when their initial intuitions conflict and this can lead people to contradictory judgment and which then leads us to link 2 where we reason to support our judgment and the process repeats. We use reflection to think over a problem until we feel right.
The link 5, the reasoned judgment link, recognises that a person could simply reason their way to judgment that contradicts their initial intuition, however, such ability is only common among philosophers who are trained to do so.
This way the model combines the value of both reason and intuition in moral judgment. So, it is never a dichotomy between rationalist approach and social intuitionist approach, but the way how reason and intuition are linked.
If the social intuitionist model is correct as a description of human moral judgment, it shows us the path to develop reasoning in the classrooms. As humans are innately evolved to depend on intuitions or heuristics, we can't just shut off our brain's heuristics. But, we can learn to be aware of them. Furthermore, we can create classrooms that encourage the students to use Links 5 and Link 6 more often. Furthermore, the model encourages us to take support from other people, link 4, social persuasion link; to improve our reasoning, thus emphasizing the role of peer discussions and learning.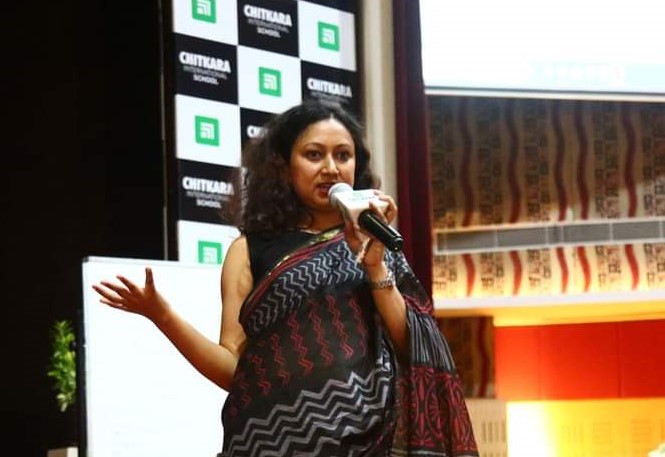 Nidhi is currently working as the Innovation Manager in Savitribai Phule Pune University under the EDUREFORM Project. She likes to read and write about the topics related to Education, intersectionality and social justice.